Lets Have An Adventure 7 - Feather & Twig
00:23
As most of you all know, I am really passionate about photography. I spend most my time with a camera or a camera phone in my hand snapping away and becoming some what an announce to Lee when he is trying to fall asleep and I have my camera in his face but the reason I do it is for the simple fact that I love capturing moments in my life and others that I can look back on. Adventures I have had.
Recently I received a wonderful email from a simply lovely lady called Livia asking me if I would like to feature one of her photo blocks on All Of My Days With You and of course I jumped at the chance! Straight away I knew what photo to send over to her and wow the results are simply perfect! The detail of the wood grain adds such a wonderful effect to any photo.
Being a girl who are adores anything rustic the idea of having a photograph we adore printed on to a piece of wood was something I had never heard of before. Livia and her work partner Lena, two beautiful mummy's, have come up with something truly so original that having a piece of their art in my home is an honour. Being able to present 'beautiful images handprinted on wood which share the qualities of the photographs of days gone-by' and a truly unique way. We have even decided that we will be showing off our photo block at our wedding in September and oh boy can I not wait to share it with our guests and help spread the word.
With special occasions in mind, the photo blocks are a great idea as a gift for any loved family member for birthday, weddings, anniversarys all occassions. The ladies have even started selling gift vouchers as well. So why not give someone you a love a Feathers and Twig gift voucher so that they can purchase their very own photo block. Head over to their website for more details and fall in love with their work as much as I have. You can find them at the below links.
feather and twig website
Instagram
Facebook
"let's have an adventure" is a bi-monthly link up posted on the 13th and 26th of each month. You can share old or new adventure posts with us. We would love to have you join us and help us create this wonderful community of fellow adventurer's!!!!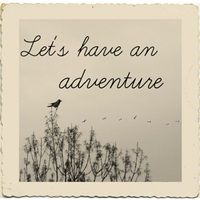 Today, we have the lovely Anna from
In The Playroom co-hosting
with us today. She has been so kind and is sharing her own adventure with us all today. Please do take a peek.